[av_video src='https://www.youtube.com/watch?v=gL9Vir9L_88′ format='16-9′ width='16' height='9′]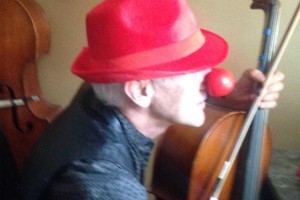 Our comedic contribution to the Red Nose Benefit Foundation.
A lot of fun. I played all the instruments you hear. Song by Renee and myself. Wonderful lyrics by Renee Carly and fantastically sung by Freddy Lopez.
I used the NS/Stick for the recording but for the video I picked up the Chapman Stick, or should I say "Shtick!" As I played like a clarinet. Lol. All guitar and bass sounds are the NS/Stick.
Have a look and laugh at us Zany characters! Wait for the end credits to find out more info.
Enjoy!!
/Don